If you wish to contact me, please do so at br[email protected]. I'd love to hear from you!
I've always loved jewelry. To prove it, here I am at age 7 posing for a school picture wearing my mother's copper wrist cuffs and a blue Red Cross ring made of plastic–which I guess was a harbinger of my propensity for incorporating one of my favorite "go-to" materials in my designs: resin, a substance that is similar to natural resins and that is used to make plastics. I use vintage resin andessay about your goals writemyessayrapid.com Lucite, and matte resin beads from India in addition to glass beads, semi-precious stones, wood, bone, horn, agate, jasper, rubber tubing and vintage shoe buttons.
Each piece is unique, and I love changing up designs. My necklaces are chunky and there are several styles, including my "bubble" necklaces with colorful 26mm wood beads, resin, glass beads and vinyl disks; cluster necklaces on metal chain; "lariat" necklaces with rubber tubing; and necklaces with big, bold and colorful clamshell buttons. Some of my bracelets and rings are made with big, colorful plexiglass disks. I do everything big – I've never been one for creating or wearing delicate jewelry. I've run across so many people who love my chunky jewelry but tell me they could never wear something big. I say, anyone can wear big jewelry if they have the attitude and elan to pull it off, and my mission is to help more women feel comfortable in bold, statement jewelry. I feel truly honored by every woman who wears one of my pieces and knowing it will make her life just a little more beautiful.
My Mom is my favorite person on the planet for so many reasons: her intelligence, strength, integrity, humor and values, and for the unconditional support and love she continues to provide. She's always had great style and elegance. When I was a kid, she kept her brown, faux-crocodile print jewelry box in the first drawer of her dresser where she also had a pair of red leather gloves, and everything in that drawer smelled like those gloves. When she gave me the jewelry box years later, it still carried the smell of the leather gloves. Check out the picture below from the 1960's. Today, at age 85, she continues to epitomize elegance and vitality.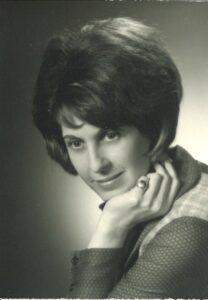 Others who have inspired me:
–My grandmother Shirley (my Mom's mother), who lived until she was 105. She was married to my grandfather for 70 years and after he passed away she went to live in a nursing home due to multiple health issues. Some folks in her situation might resign themselves to giving up, thinking they have lost the meaning in their lives. Not Gram. She rose to the occasion and became a force to be reckoned with, garnering the respect and admiration of the staff, other residents and in many cases, the families coming to visit their loved ones in the nursing home. During her stay she accomplished a lot: she was president of the Residents' Council, she appeared in resident performances of Fiddler on the Roof, she created lots of art and pottery, and much more. Here I am with Gram at her 100th birthday party: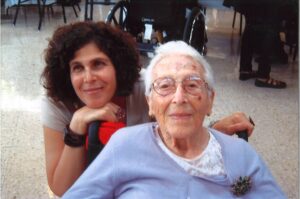 –My cousin Lisa (below), who lives in Erie, Colorado and is a fellow leopard-print enthusiast. She's the sister I never had and she's a bright light in my life; she also would have made a terrific therapist. Like my Mom, Lisa has been an unending source of unconditional encouragement and love. After many, many years in the corporate world she decided to pursue her passion of helping others by going to work for Weight Watchers. Over the last three years she's dazzled and endeared WW members at meetings with her sincerity, humor, empathy and joie de vivre (on one occasion, in go-go boots with a disco ball as a prop). This May, Lisa will literally embark on the dream of a lifetime: conducting meetings and doing presentations aboard a WW cruise in the Caribbean. Oprah, please take note!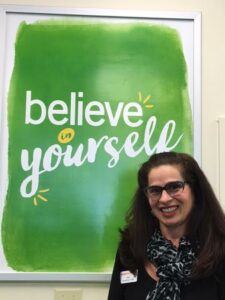 I LOVE dogs. Over the years–up until 2012–I had many wonderful dogs in my every day life. Since then, in the absence of having my own dog, I know and love many dog friends. Bella was a Golden Retriever I raised from a puppy in Alaska and she traveled home to Seattle with me, then to Portland for three years, and back to Seattle. She had a wry sense of humor and was beautiful. I remember in Alaska she would hold court with the other dogs in the vicinity and I used to tell her she was the "Bella of the Ball," awaiting visits from "gentlemen (in) collars." She also shared my affinity for leopard-print: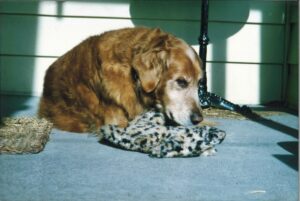 Milo was a handsome, senior white Lab who was picked up in downtown Seattle as a stray. I have a friend who volunteers at the Seattle Humane Society and she told me to go there and see him right after he'd been brought in. I did, and I put first dibs on him. Five days later, he was home with me. I only had him for three years but I'm grateful for that time. He loved to swim, run and play with his dog friends. The picture below of Milo swimming at Seattle's Magnuson Park captures the feeling I have when I'm creating jewelry: absolute joy.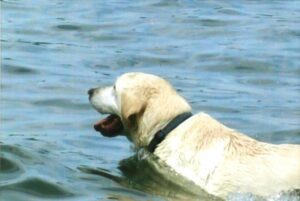 Jolly is a goofy, yellow Lab that Milo and I met on our walks in my old neighborhood in Sunset Hills. Over the years, it's been a pleasure to take care of him when his family is away. Jolly is aptly named: he's extremely genial, funny, and a real love (what Lab isn't?). What swimming was to Milo, eating is to Jolly. Chewing a bone rocks his world, and that's what making jewelry does for me.